Marni Zelnick  – Writer, Director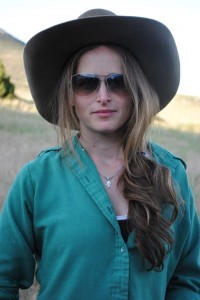 Marni Zelnick is a producer/director originally from Great Falls, Virginia.  She has served on the production team for several award winning films including:  Producer on James Franco's THE CLERK'S TALE  (Official Selection 2010 Cannes Film Festival); Assistant Director on HOMEWRECKER (Best of Next 2010 Sundance Film Festival) and WILLIAM VINCENT (Official Selection 2010 Tribeca Film Festival); Associate Producer on CAMP VICTORY, AFGHANISTAN  (2010 SXSW Film Festival); Producer on New York visual artist Carter's feature debut, MALADIES  (in post production), starring James Franco and Catherine Keener; and, most recently, Producer on THE STARE, written and directed by Jay Anania and starring James Franco and Winona Ryder. As a screenwriter, her feature screenplay THE STRAIGHT was a finalist for the 2010 Showtime Tony Cox Screenplay Award and her most recent project, DRUID PEAK, is the recipient of a $100,000 Sloan Foundation Feature Film Production Award.
Prior to her film career she served as a freelance journalist and worked for Refugees International, a Washington D.C. based advocacy NGO.  She was quickly sent to Thailand, where she spent months living with and documenting the lives of the endangered Mlabri people. Her photographs and writing were instrumental in the effort to attain recognition and support for the group from the Thai government. She earned her MFA from NYU's graduate film program.  She graduated with honors from Dartmouth College, with a double major in Creative Writing and Film Production where she received the Lockwood Prize for Poetry for her collection Love, War and Other Childhood Memories.
Rachel Morrison – Cinematographer
Maureen Mayer – Executive Producer
Maureen Mayer brings a wealth of compassion, precision, and performance to her role as Executive Producer of "DRUID PEAK." Trained as a neonatal ICU RN, she learned as a part of the University of Utah's elite flight nurse team to take potential disaster and turn it into success. She has spent parts of over 30 years in the Intermountain West and the last 20 in Jackson, WY. She has worked as a volunteer at Lake Hospital in Yellowstone National Park and has a deep familiarity with the world's first national park. She believes strongly that, "Anything worth doing is worth doing well."
She is a prolific fund raiser for numerous causes, including Chair of the INOVA Health System Gala, which raised over $1 million for emergency and disaster preparedness in the wake of the 9/11 tragedy, as well as the 2002 Ride to Remember, a bicycle ride from Ground Zero in New York City to the Pentagon over 4 days. She has served on the boards of the Snake River Institute in Wilson, WY and Indian Springs Ranch HOA in Jackson, WY as well as the Claude Moore Colonial Farm in McLean, Virginia and currently serves on the board of Vital Ground Foundation. She is a member of the Sundance Institute and Women in Film. Maureen and her husband have 3 sons, all of whom share a love of the outdoors and the integral connection between adventure, wildlife and the development of the human spirit. Her son Kevin is a United States Marine Corps Infantry officer, who commands a mobile weapons platoon. Its call sign is "Wolf."
Julie Buck – Producer
Julie Buck is a New York based producer whose films have played in hundreds of festivals including Tribeca, Clermont-Ferrand, SXSW, BFI London Film Festival, Palm Springs, Venice, Nantucket and Outfest. She has worked regularly with James Franco's production company, Rabbit Bandini, including producing the upcoming film, Black Dog Red Dog with Chloe Sevigny, James Franco, Whoopi Goldberg and Logan Marshall Green and is currently in production on the Tim Blake Nelson feature, Anesthesia. Before moving into production, Buck served for six years as the head of film conservation at the Harvard University Film Archive and has worked as a guest film curator at Harvard, MIT, George Eastman House and other venues in the US and abroad. Buck has an undergraduate degree from Brigham Young University, a certificate in film preservation from George Eastman House, and an MFA from Columbia University.
Dana Morgan – Producer
Dana Morgan worked as James Franco's assistant for two and a half years, during which time she was involved in the creative development and production of numerous film and art projects including the short film The Clerk's Tale, which screened at the 2010 Cannes Film Festival, and Saturday Night, a feature-length documentary on Saturday Night Live due to be released later this year.
She also explored the convergence of performance art and film while acting in "Three's Company: The Drama" which was part of the New Frontier selection at the 2011 Sundance Film Festival, and with her creative collaboration on the multi-medium homage art project Rebel. Dana grew up in the Santa Cruz Mountains, which founded the deep appreciation for the outdoors that she now brings with her into the production of "Druid Peak". She is a lover of literature and storytelling and looks forward to helping Marni Zelnick turn the vision of her moving script into an equally moving film.
Jeff Petriello – Producer
Jeff is very happy to be producing Druid Peak. Having worked with Marni Zelnick since day one on the job, he is both honored and eager to craft Druid Peak into the best movie ever. It is with infinite thanks to his family and friends, with whose constant and remarkable support he's able to do anything at all, that he presses forward on this wild adventure into new filmmaking.
Jeff studied Philosophy at Columbia University, but owes much to the graduate film program at NYU, through which he's met so many wonderful and inspiring coworkers, mentors, and friends.